4 Takeaways from the 2021 CIMS User Conference
After more than a year of remote work and virtual conferences, the CIMS team welcomed cemetery professionals from across the country to the Wilderness Hotel & Golf Resort in Wisconsin Dells, Wisconsin, for the 2021 CIMS User Conference.
A biennial event hosted by Ramaker, the CIMS User Conference is about far more than cemetery mapping software. While the CIMS team announced exciting updates for cloud-based CIMS users and provided useful cemetery software tips and tricks at this year's event, the conference also allowed cemetery professionals from across the country to discuss trends and challenges in the industry.
The 2021 User Conference also featured presentations from current CIMS clients and guest speakers, demonstrations of useful cemetery mapping technology, including ground penetrating radar and drone and 360 imagery, and opportunities for one-on-one meetings with CIMS experts.
Didn't make it to this year's CIMS User Conference? Don't worry. We've outlined all the key announcements from the event in this post.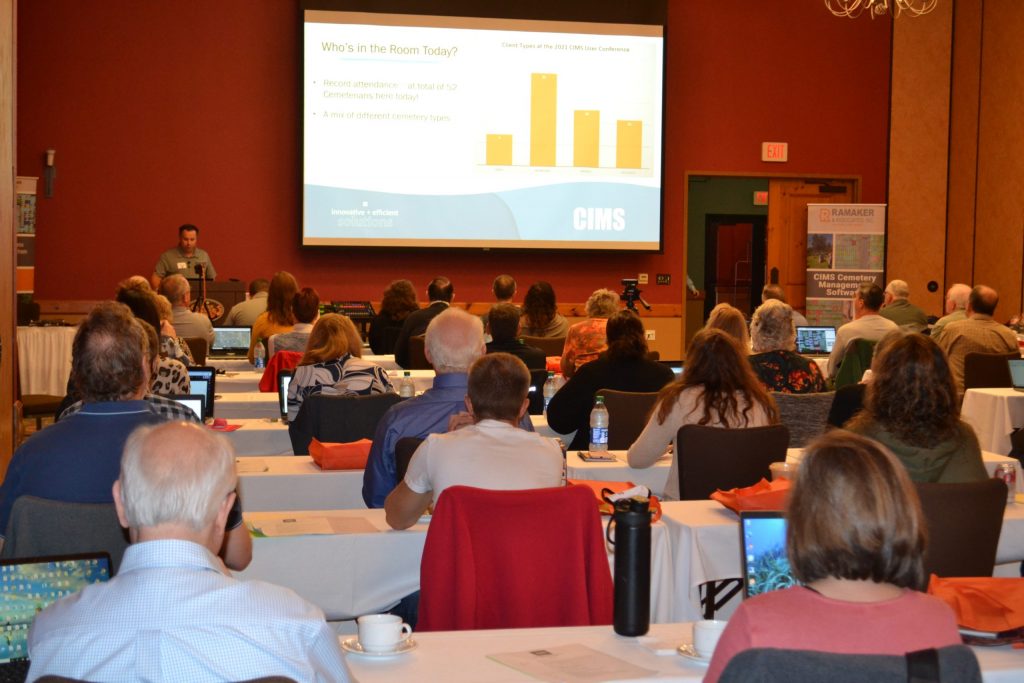 CIMS updates for cloud-based users
CIMS Programmer Nathan Cavanagh announced several important updates to CIMS at the 2021 User Conference. The following four updates went live for cloud-based clients after the event.
1. Dynamic mapping updates
CIMS Platinum provides cemeteries with accurate digital maps of their burials—and now those maps offer faster syncing to streamline collaboration. When a user makes a change to their cemetery's map, all other users' maps at that cemetery will update within 30 seconds.
2. New reporting interface
The CIMS team completely overhauled the software's reporting interface, allowing users to filter data more quickly and efficiently and add graphs to their reports.
3. Updated CIMS Calendar features
CIMS introduced an updated CIMS Calendar, which allows cloud-based users to add new types of events and set events as repeating.
4. Touch screen compatibility for signatures
CIMS users can now accept digital signatures on touchpads or touch screens for deeds and other essential cemetery documents stored in CIMS.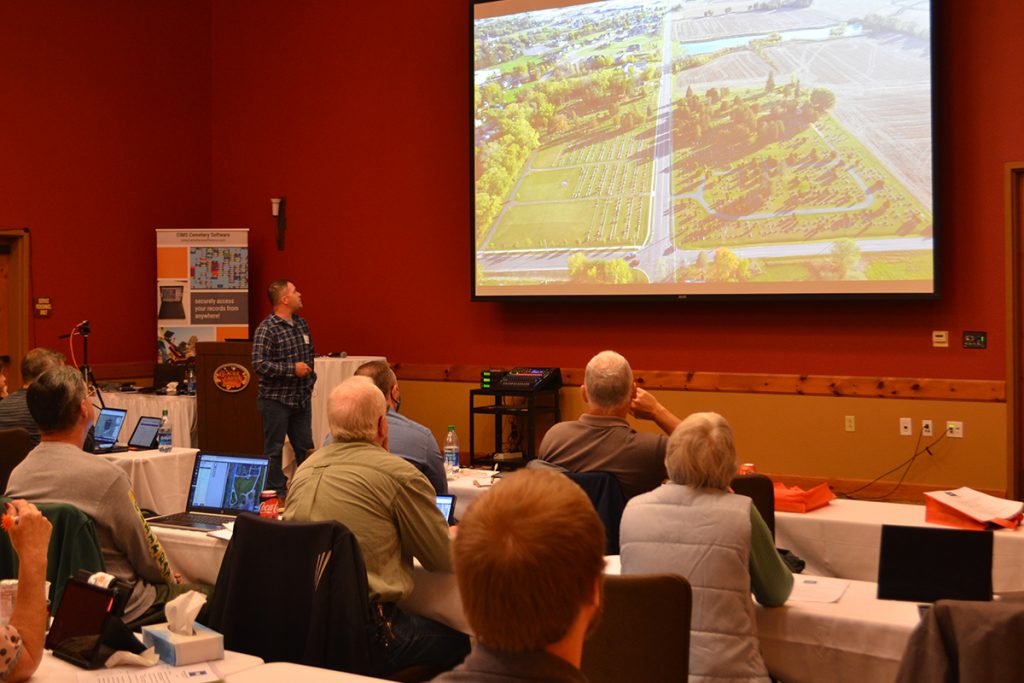 Gathering valuable feedback from CIMS clients
Although the CIMS team interacts with customers daily, it's incredibly rare for us to spend an entire day surrounded by scores of passionate cemetery professionals. The dedication and wealth of experience possessed by conference attendees always inspires the CIMS team.
For CIMS, one of the most important elements of the event is that it allows our team to hear firsthand accounts from CIMS users. We listen to customer concerns, collect feedback, and provide hands-on software training. These conversations inform the direction of CIMS cemetery software and inspire future improvements.
Want to participate in our next conference? More details about the date and location of the 2023 CIMS User Conference will be announced soon. Click here to sign up for the CIMS newsletter and receive updates.
About CIMS cemetery software
In 1998, CIMS (Cemetery Information Management System) was born out of a commitment to the dedicated cemetery representatives who keep their cemeteries running. Over the past two and a half decades, the CIMS team has worked closely with more than 1,000 municipal, religious, and private cemeteries to create software and modules that simplify record-keeping and streamline everyday tasks.
Interested in learning more about CIMS? Request more information about our cemetery software here.