CIMS Cloud New Features
One of the great things about cloud software is our ability to release new features frequently, since doesn't require any updating by our users. When we decide to release new items for CIMS Cloud or CIMS Light cloud, we take care of all the hard work, so updates are automatically available the next time the user logs in. Since updates to the cloud are so user-friendly, we have released quite a few new features and enhancements over the past year that have only been available to those users who use CIMS Cloud or CIMS Light Cloud.
Below are some of those new features:
GPS walking directions have been added into CIMS Cloud
Since we take pride in mapping cemeteries as accurately as possible, we are able to provide GPS walking directions to any grave in your cemetery. To use this functionality, search for a burial or space with within CIMS Cloud. When the space information opens on the right side, click the GPS button and let CIMS Cloud provide you with a direction and a distance. This feature is designed to be used on a tablet or smartphone that has GPS capabilities. This functionality is also available in our eCIMS software (https://burialsearch.com), and allows the general public to locate a loved one quickly and efficiently within your cemetery.
Watch the short video below for a demo!
Enhanced Calendar Functionality (CIMS Cloud and CIMS Light Cloud)
In various locations throughout the program, you will see this icon which will allow you to add that date/event to your calendar. This functionality has been added to both the burial date, and the work order. You can add calendar events automatically to Outlook, Outlook Online, Google, and Yahoo. We also have a generic iCal format, which is usable by a large number of calendar programs.
When you add a calendar event for a burial, the subject will automatically be the name of the interred. The location will be the full space_id, and the start and end time will be set at midnight. We suggest that you edit the calendar time to reflect the actual burial time.
When you add a calendar event for a work order, the location will be the space_ID from CIMS Cloud, and the body of the calendar event will be whatever you've entered for the Remarks.
Move Burial Option (CIMS Cloud)
In CIMS Cloud, there is now a button that will allow you to easily move a burial from one grave space to another. To use this new feature, simply locate the burial record that you would like to move, and select the orange "Move Burial" button. After clicking the button, the program will prompt you to select a new grave for that burial. When using this feature, the space that the burial is being moved to must already be sold, or sold with burial. No other information (Ownership, Marker, Deed, etc.) is moved during this process.
Color Coded Space List (CIMS Light Cloud)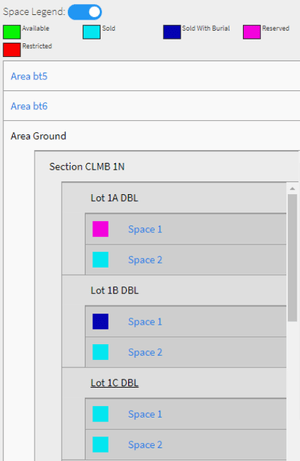 In an effort to more easily locate graves of a particular status within your cemetery, we have a ddeda status legend to CIMS Light Cloud. To use the new legend feature, start by enabling the legend using the toggle button. Once the option is enabled, our default status options and colors will appear, along with any cemetery defined statuses that have been created within CIMS Cloud. Every space in the cemetery list, as shown to the right, will now include a color coded box indicating the status of that particular grave. If you would like to change any of the colors, simply click the colored box in the top legend that you would like to change, and select a new color from the box that appears. Closing the color selection box automatically updates the colors below, as well as saves your preferences inside our database.