CIMS Cloud Features – Unlimited Images
Image uploads are now available for Owner, Burial, Marker and Deed tabs and on the Customer page. Our new uploading utility allows for more than one image to be uploaded at the same time. W hen you click on the "New Image(s)" button, then in the image upload popup click "+Add Image(s)", you can hold CTRL+ click on all the images you want to upload. Only *.jpg, *.png, and *.gif image types are allowed at this time. Each image will appear in the tab it was uploaded on in a "slideshow" display.
The slideshow display will have left and right arrows (it will not auto advance), and a series of circles under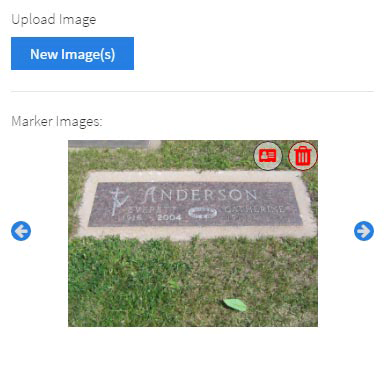 the images indicating how many images there are. If you click an arrow enough times to reach the end of the images, the slideshow will start over. Also, clicking a circle will jump the slideshow to show the image associated to it. To delete an image, click the 'trash' icon found in the upper right corner of the image. For eCIMS clients, a second icon will be found next to the 'trash' icon. Clicking this icon changes it from red to green. This is used to indicate if the image should be shown in eCIMS. A green icon indicates that the image will be appear, a red icon indicates the image will not be seen in eCIMS. There is no limit to the number of images that can be uploaded, but a large slideshow consisting of more than 10 images can slow down load times. Due to a coding conflict, we currently can only upload PDF documents to the "Docs" tab. As soon as this conflict is resolved, we will start allowing PDFs to be uploaded to their respective tabs.